1. Our distinctive Batter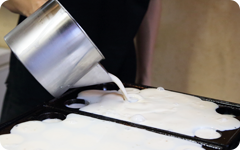 We don't put ginger or green onion in the batter because we're confident of its flavor which takes a lot research for us to come up to the present quality. You can enjoy our takoyaki without sauce; that's how good it is!
2. Ingredients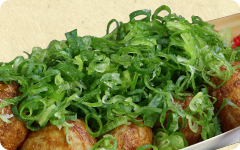 We carefully choose our all the ingredients starting from the soup stock that we make daily to the fresh green onion and seasoned cod roe from Hakata.
3. Seasoning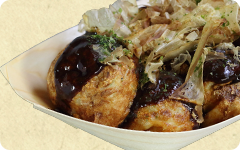 As we explained above, you can enjoy our takoyakion its own, but you'll enjoy it even more with our original sweet sauce. Or try our special sauce mixed with mayonnaise. If you like the taste of soy sauce, try our unique grilled soy sauce. If you prefer to keep it simple, try it with sea salt from Akou. There are many great options!
4. Expert technique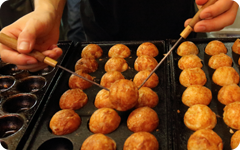 We prepare each takoyaki with our whole heart to make them more tasty, beautiful and faster. But we don't rest on our laurels! We're always finding ways to improve everything we do to reach the supreme technique.